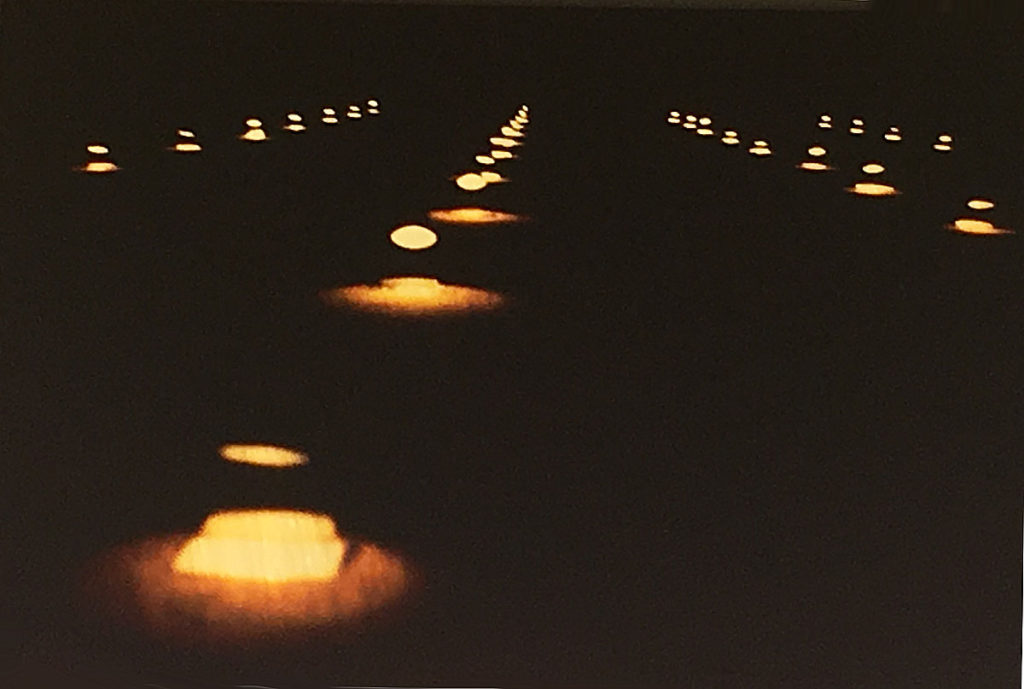 Fine Arts Gallery Murray State University, Murray KY 1977
Memory and Healing
I was invited to do a show at Murray State's Fine Arts Gallery, I was on the phone asking about the size of the room, and where the electrical outlets were. When they said every 10 feet in a grid pattern, I immediately had a vision of the show in every detail-- the poster, the title, and the way it would look.
I put college dorm-type gooseneck lamps at every outlet, realizing the space would look like a graveyard as well as an airport landing field. I wanted to put mementoes of the dead in small plastic sleeves under each lamp. I asked friends whether they had someone they wanted to remember. They all had such different ways to honor their dead.
Mike Fink, an art historian at RISD (Rhode Island School of Design), came by my house with his baby in his arms. I asked whether he had someone to remember, he pulled a pair of glasses from his shirt pocket. "These are my mother's," he said. "She died several years ago."
I asked my friend Ed Koren, the cartoonist. He said yes and went to his drafting table. From his pencils and pens, he pulled out dental tools. I said, "Oh, do you use these in your work?" He said no, his father had been a dentist and he liked to keep his tools close at hand.