Taos NM & Marfa TX, USA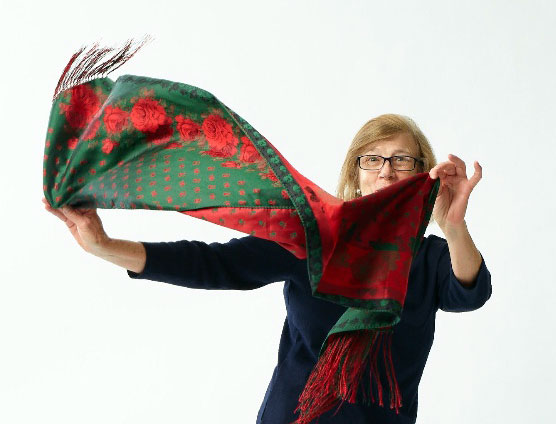 I grew up in many different countries. Spanish was my first language, living first in Guatemala, then Colombia. When we moved to the States I was six and learned English, collected bits of wire, stones and broken glass from the streets. I did 'show and tell' with a bit of found glass in second grade and that made the teacher angry, "But you just picked it up from the street!" she said. Of course I thought it was really beautiful.
We moved to Germany and Austria when I was nine, most of my education was in German. I grew up at the Ecole d'Humanite, an International progressive school that taught us we were children of the world. At seven  I decided to become a painter.
I studied Painting and Illustration at the Rhode Island School of Design (RISD). My paintings were exhibited in the States and in Italy. About 5 years after graduation  I wanted to back paint on glass and to paint on an undulating surface. Strangely enough this brought me to bending glass. I was living in Providence RI then and no one in the RISD glass department  knew how to bend glass so I started experimenting using a small test kiln. I called these experiments 'drawings' and the work became the foundation for much of my subsequent glass pieces. As I never learned slumping or bending glass from anyone, I am self-taught. I call the process I developed 'mid-air' slumping. I do not use a mold and every piece is unique.
Before developing my glass slumping technique I made conceptual work and large scale installations both in the States, at University Galleries, Museums, and on the streets of Rome. In some of these works I used glass, sometimes breaking it--as in Do Not Break the Glass--or with plate glass combined with high temperature heating elements to show heat wave patterns.
Through the years I have been fortunate to receive many honors and grants,  from Wellesley College, from the  Museum of Art and Design (MAD) in NYC-- the first Visionary  Award--several from the NEA, a USA Fellow Grant from United States Artists, and the Rasmusson Foundation, among many others.
My work is represented by several US galleries. I have had over 50 one person exhibitions and shown in over 80 museums.