By Mark Jenkins, Washington Post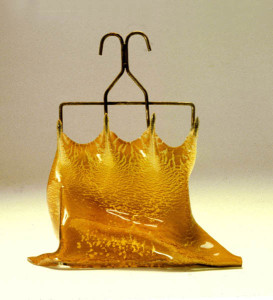 Mary Shaffer's sculpture relies on oppositions: soft vs. hard, light vs. dark, clean vs. corroded. But the appearances of her principal materials — glass and metal — are more different than their actual natures. The glass that appears to flow is actually just as solid as the frames, hooks and tongs to which it's attached. And the processes of making the clear or colored material — hot glass or slumped glass — are as industrial as manufacturing steel.
Reflections and Contradictions: Five Decades, Shaffer's retrospective at the American University Museum, savors these incongruities. The selection, which dates to 1972, includes pieces in which glass poses as water, fabric or an icicle dripping from a rusted metal wheel. Although the patina emphasizes the bulk and strength of the metal pieces, the glass catches the light, making it appear weightless, mutable and alive.
Shaffer, who works in Texas and New Mexico, started as a painter, and two of her 1970s drawings are included here. There also are In the galleries: Artist's glass has life of its own four pieces from a series in which undulating clear-glass diamonds bracket simple silver-metal shapes, rare examples of the artist's work in which glass plays a supporting role. More often, though, it dominates, even when a small dab of the seemingly fluid material is attached to a large metal object. The found industrial pieces suggest the world as it stubbornly is; the glass evokes change, possibility and, well, art.
Mary Shaffer: Reflections and Contradictions: Five Decades American University Museum, Washington DC
September 12 through October 18, 2015
www.american.edu/museum